Alpine, WY – Twenty Years Later
October 22, 1997 Jackson Hole News, Teton Style
Picturing Alpine
Twenty years after his original shoot, photographer Larsh Bristol returns to Alpine for another look.
Story and Photographs by Larsh Bristol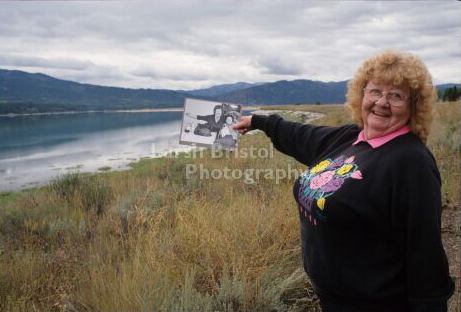 Ethel Jensen just hates to have a good time, and it shows. She loved life 20 years ago and hasn't seen fit to change. Although she now heads south in the winters she comes back every spring to her small camper by Palisades Reservoir. "It's the people in Alpine," she says "There are none finer."
In 1977, after 14 weeks of high-stress advertising sales at the Jackson Hole News, I felt the need to leave the hustle and bustle to Jackson.
My girlfriend and I saw and ad for a two bedroom cabin for rent in Alpine-36 miles south of Jackson- for $125 a month. Even that was a deal.
While living in Alpine I honed the skills of ski bum, electrical assistant, bartender, carpenter, newspaper publisher, logger and goofy golf course builder.
Still, I had some free time on my hands. The one thing I had learned well while working at the News was the power of good photography. And photographers didn't have to sell to ads or collect bills. With the power of photographs by News photographer Richard Murphy in my mind, I bought a 35mm camera and a 50mm lens and began a project that would literally change my direction in life. I would photograph everyone I knew in Alpine. With the population of about 50 full-timers at the time, I felt I knew most of the town.
So between putting out the Alpine Country News and cutting down lodge-pole pine, I took pictures of friends, acquaintances, of people I didn't even know.
I loved it. Eventually the picture taking led to a real photography job with the Sheridan Press, and then on freelance. I'm till just a guy taking pictures, but now I'm a guy who has been taking pictures for a living for 18 years or so.
Over the years I've returned to Alpine several times to visit friends, but being with it's 20th year since taking my first Alpine photo, I thought I'd make the trip extra special: I would track down as many of these old-timers as I could for a 20th anniversary photograph.
I had planned to return early in the summer, but a flyer about Rich Clarkson's Photography at the Summit workshop to be held the later part of September changed my plans. What luck! Not only could I continue my project, but I could get my work critiqued by a covey of some of the finest documentaries photographers alive today.
Better yet, I could write the whole thing off.
So the project began. With only on week it was hard to track down the people still living in the area. My thanks to Ethel Jensen and Paula Johnson for their help.
A lot of people had passed away or moved on, kids had grown up and left subdivisions and pizza joints had replaced wide open spaces. But the atmosphere and personality of old Alpine still came through, despite the smell of new growth with Jackson creeping slowly down the Snake River.
With 20 years and thousands of images behind me, I'm still very fond of the Alpine black and whites. Not because they're great photographs, but because of the subjects whom I'm proud to have known. Alpine was a very important part of my life, and I plan to continue this project next years and the years after, if only for an excuse to return to the junction, have a beer with Tex and hear an adventure story or two.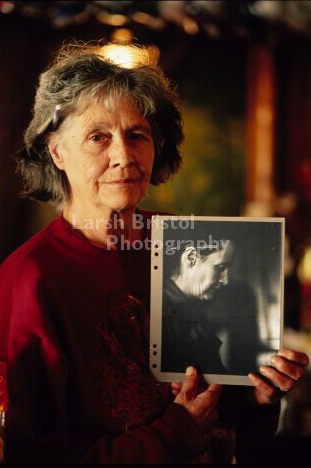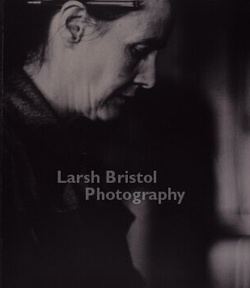 Rita Clay – I worked with Rita's husband, Bill, at the Flying Saddle Lodge. He was a great cook and Rita taught him all he knew. After he left the lodge they both ran a restaurant and motel in Etna, one of those places on the highway that is nothing fancy but boasts delicious home cooking. Nothing has changed with the atmosphere, cooking or Rita.
As published in the Teton Style of the Jackson Hole News, Jackson, WY on October 22, 1997
More of the photos in the Alpine, WY – Twenty Years Later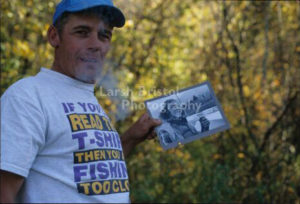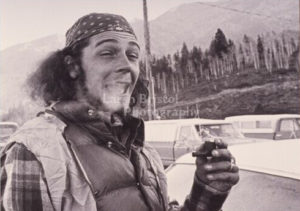 Kenny "O" Owslany
Crazy Kenny, above and below, didn't get his nickname for being shy. His colorful personality was different for Alpine at the time, but over the years Kenny has become a respected Alpine citizen and prized for his knowledge of fishing conditions at any given time. Arriving by helicopter as a geothermal placement technician 20 years ago, Kenny let the helicopter continue on without him.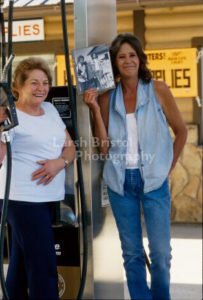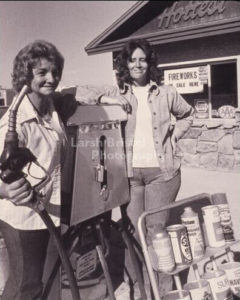 Beulah Rumbaugh and Sherry Jorgenson
This mother and daughter team, above and below, pumped gas and conversation at the local Standard station 20 years ago. Through retired as a gas jockey, Beulah reside behind the new, fancier Amoco station that replaced the old station with self service credit card gas pumps where a customer never has to see a human face or hear the least bit of town news.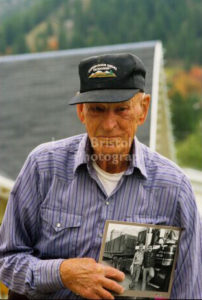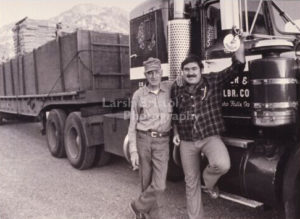 Tex
He was a boxer, gold rusher, cowboy, carpenter and about a thousand other things if you care to listen to a storey or two. Alpine could not be without people like Tex, pictured below, with Dave Laplant, two decades ago, and above tourists to a gift shop and restaurant at the Nordic Inn.